SAMH 55th ANNIVERSARY CHARITY DINNER 2019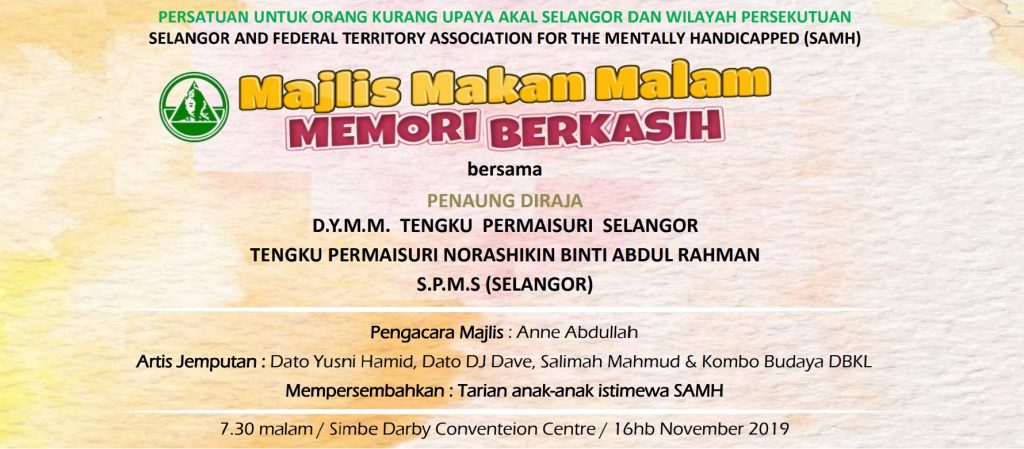 I am pleased to inform that the SAMH, a non-profit organization, will be organizing its 55th Anniversary Charity Dinner at the  Sime Darby Convention Centre, A1 Jalan Bukit Kiara 1, 60000 Kuala Lumpur on Saturday, 16th November, 2019 at 8.00 p.m. Our Royal Patron, D.Y.M.M. Tengku Permaisuri Selangor, Tengku Permaisuri Norashikin Binti Abdul Rahman, S.P.M.S. (Selangor) has kindly consented to be the Royal Guest of Honour.
We are the oldest NGO running schools for the mentally handicapped children and adults, currently serving the needs of 250 children and adults at 3 special schools and centres in the Klang Valley.  During the last 55 years, the Association has devoted itself towards providing education, training, employment and care for the mentally handicapped children and adults of various races in the community to the fullest extent.  Our school profile can be obtained from the Association Website http://www.mysamh.org.
However, maintaining all the 3 special schools and centres and 60 staff, including 31 teachers, requires a sum close to RM2.5 million annually. The SAMH 55th Anniversary Charity Dinner hopes to raise RM500,000-00 urgently needed funds to cover our operating budget and thus seeks your generous support by sponsoring a table of 10 seats each at RM10,000, RM5,000 & RM3,000.  An 8-course Chinese dinner will be served.                             
As a charitable organization, all your generous donations to the Association are exempted from Income Tax, Reference. No: LHDN.01/35/42/51/179-6.1041.                              
We thank you for your continuous support and look forward to your participation again in this fund raising effort.